Stephania Salazar / Commercial Director of InterFuerza
Getting new prospects is an art. Searching for and finding the right people or organizations that have the potential and interest in becoming your ally or client is not an easy task, nor one that should be taken lightly.
Every prospect you get is a potential customer that could become a great asset to you and your company. Just as a buyer evaluates different offers in the market before making a purchase decision, in the same way, you must evaluate and understand what your prospect needs and is looking for. This in order for them to reach you in their search and analysis process.
Everything is a chain, and like a chain, if one link breaks, the dynamic breaks. We will give you a series of tips that you should consider when giving yourself the task of getting new prospects and finally convert them into new customers:
---
Create a strategy 
You already have your objective clear, and that is that you need new leads to reach your sales goal. In this process you must define the strategy you will use to get them. Establish the channels you will use and the means to get these new contacts. They can be the traditional ones: telemarketing, brand activations, mailing, or new channels like social networks, blogs, google, etc. The important thing is to target the market that may be interested in your product or service. If you target "the whole" market, you will waste efforts and reach companies or people to whom your offer is not attractive or necessary.
---
Control what you say and what you get back
Once you have defined your strategy you need to control both your sales promise and all the data collected, and in turn, record in a simple but successful way the relevant aspects of each prospect, such as: Follow-up, level of interest, dates of future contacts, means of contact, level of importance or interest of each one, type of industry, which product or service in your portfolio can be of great help, among other variables.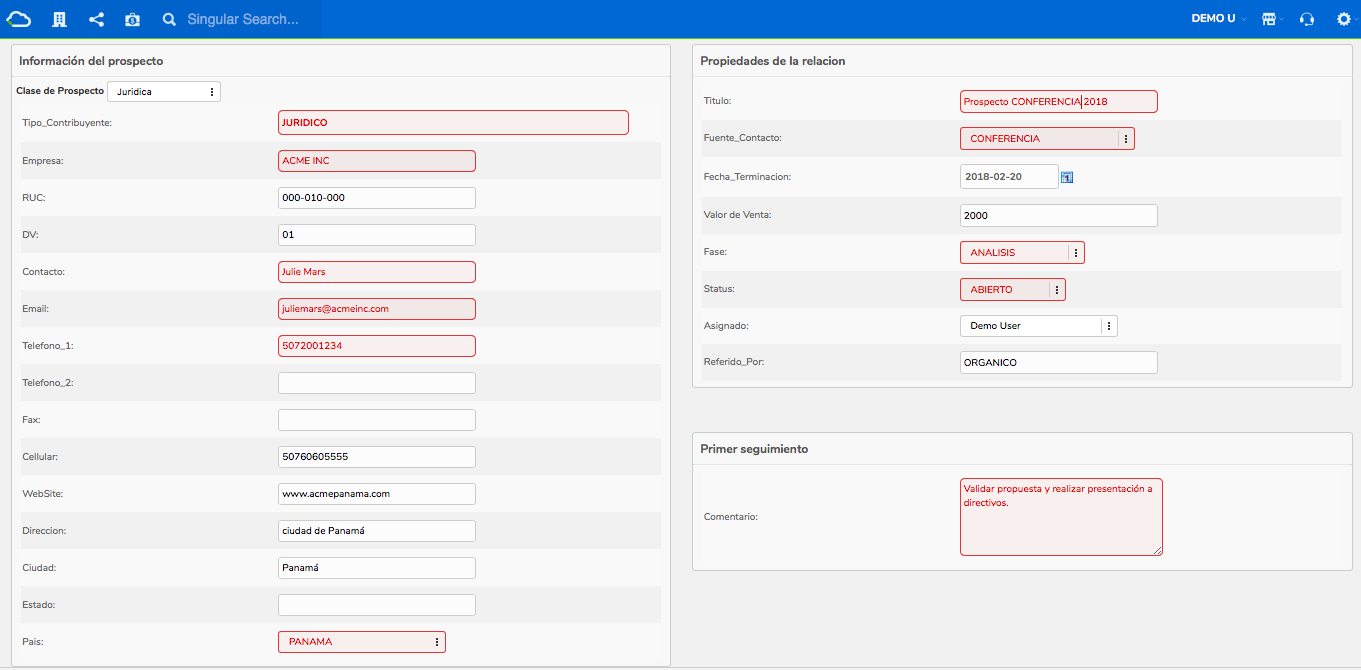 Getting prospects is not about saying exactly what they want to say. Your proposal must be authentic and realistic. You must be able to deliver on your promise and also be in full control of all the information you get from each follow-up.
All this information is not only necessary, but very important, and you can manage it in a CRM. InterFuerza has a module dedicated to the control and management of new sales opportunities to ensure a successful follow-up of each one.
---
Complies with follow-ups 
It won't do you any good if you have a large database if you didn't contact them in time. How many times have you left an event with such a large and interesting database that you get excited just by seeing the number of people and companies interested in your product/service. But the next day, you completely forget to send a thank you email, or the information you were supposed to send, or make that call to organize a business presentation.
Your competition probably also has this information, and whoever makes the first contact and clears up any doubts will be the one in the lead. Studies show that 50% of buyers tend to purchase products or services from the supplier who contacts them first.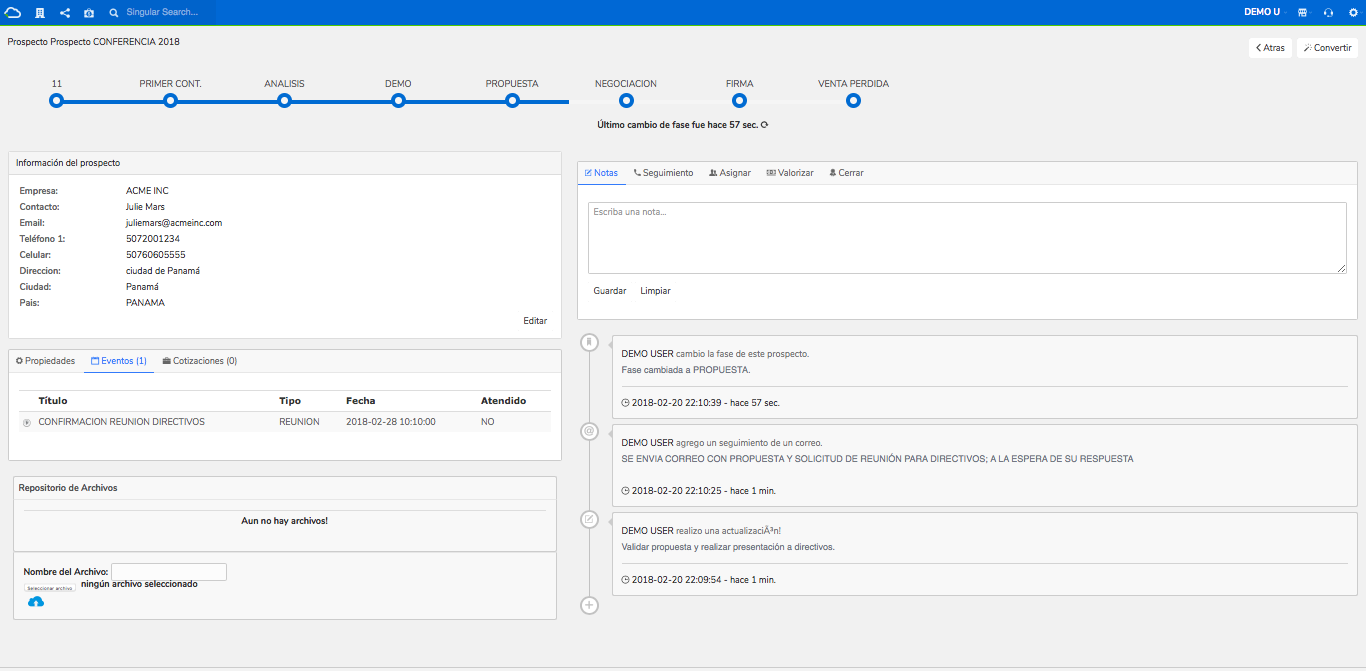 So, order that large database, import it with a single click on the platform of Interfuerza, and start doing all the follow-ups in real time. In the CRM of InterFuerza you can register from a call, to the result of a meeting, as well as keep track of the phases in which each of the prospects is.
Measure results
The sales process will not depend solely on the responses of your prospects. Measuring the results that are obtained after a follow-up call, meeting, presentation or proposal delivery, is of vital importance to establish which is the best process to carry out in order to add the highest number of sales. You must continually work on evaluating and improving your prospecting process.
Through a CRM you can measure response time from a prospect, and the time it takes you internally to follow up with them. Additionally, a CRM like InterFuerza will give you constant alerts based on the reminders you have previously assigned to each one. You will be able to control your agenda, your calendar of events, and associate them independently to each sales opportunity.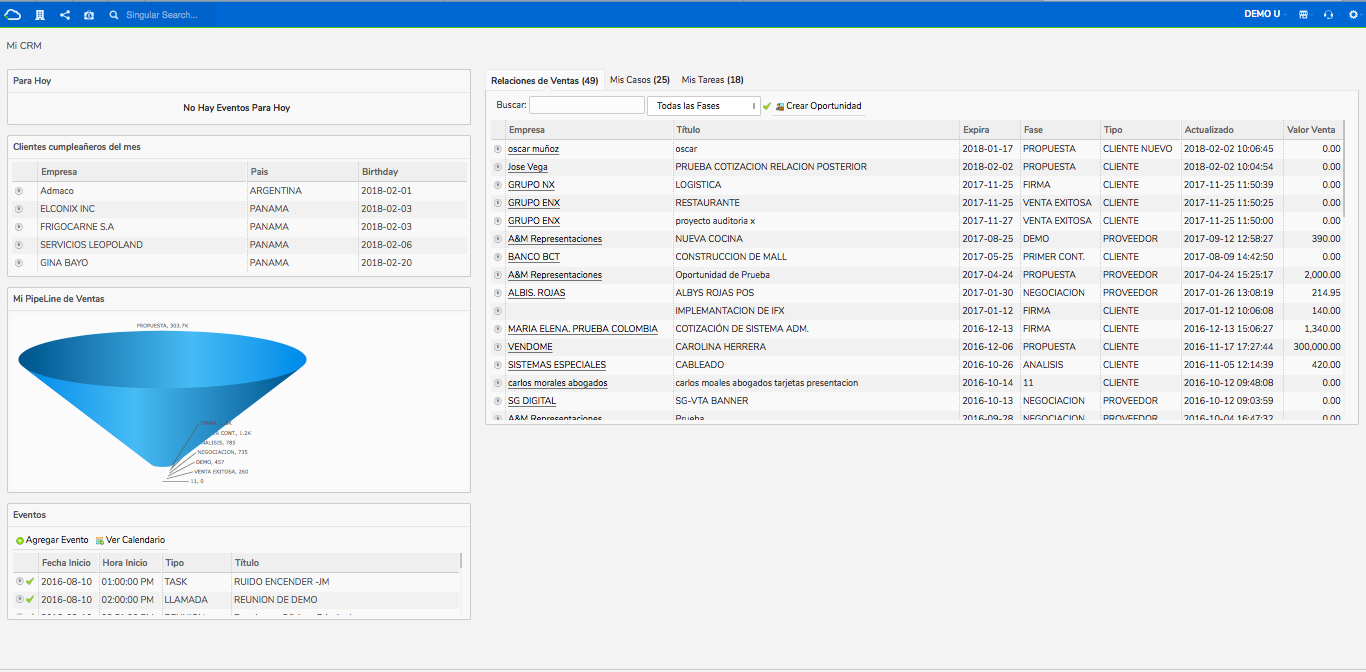 Management platforms, more than a means of storing information, should be assistants in the process that allow you to automate daily activities. By having the Prospects tool of Interfuerza, you will get not only a platform where your information will be organized, but you will always have your information at your fingertips. It's not about getting as many prospects as possible, it's about knowing what to do with each one of them and what product to offer to meet their expectations.
More than a CRM, an assistant
With InterFuerza CRM you will have features designed for large companies, in a compact and easy to use platform. The new Leads module allows you to control the phase of each lead from its "tool bar", which is fully adaptable to the phases you want to create! While you will have in one place all the information of your prospects, you will be able to manage your relationship with each one of them.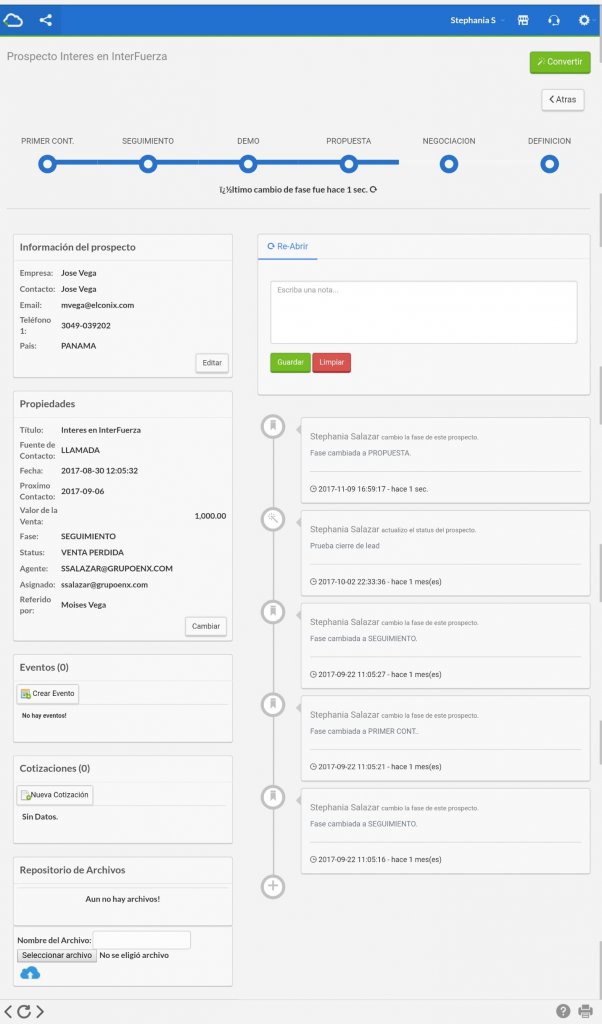 Create as many follow-ups as necessary, record the source, date of the next contact, relate the quote, and control the events in your calendar. The platform will send you the reminders you assign previously. Additionally, it will keep track of all your leads and contact dates on a daily, weekly and monthly basis. Showing you in a single list all your tasks of the day, and which sales opportunities you have forgotten to attend.
If you are not yet using the CRM of InterFuerza and want more details, contact us and tell us how we can help you organize your schedule and increase your sales.